Sultan Pharmacy and Natural Care is your go-to source for all your prescription needs. We proudly carry a large assortment of natural medicines and offer health classes to our customers. Stop in today and let us treat you like family.
"I've been going to this Pharmacy for over 10 years; even when I moved several miles away a few years back I still drive back there each & every month just to say hello & pick up my meds (even though I have a several pharmacies less than a mile from my house)...They're not just friends; they're more like family. They have the kindest staff & Greg is the most awesome & informative pharmacist you'll ever meet."
Welcome To Sultan Pharmacy & Natural Care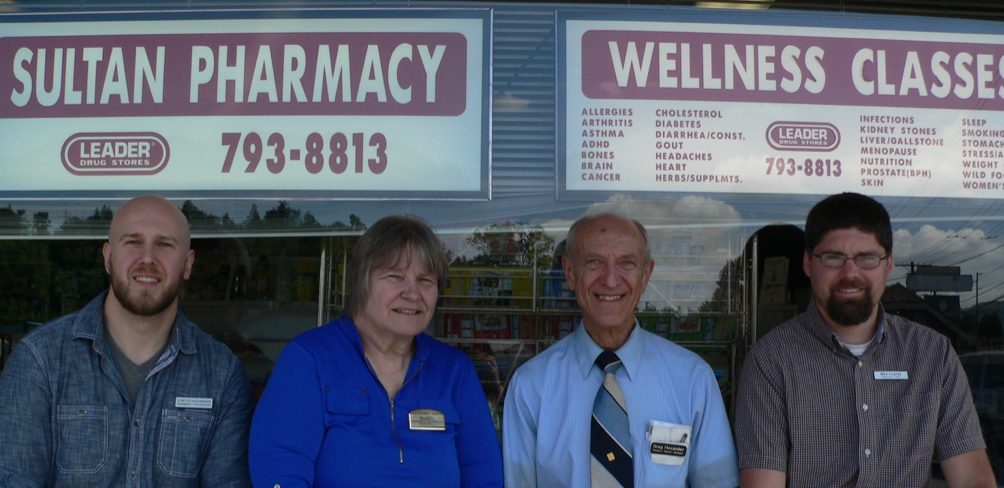 Honoring Our Customer Is All We Do
The mission of Sultan Pharmacy & Natural Care is to help people take better care of their health and animals through the best of both natural and traditional medicine. Sultan Pharmacy & Natural Care seeks to educate people about preventing health problems as well as treating conditions on a personalized basis.
Sultan Pharmacy & Natural Care is a full-service pharmacy that accepts most insurances even if not stated by the insurance company, including Medicaid, Group Health, and Labor & Industries. Services include:
1. "Done - Already" Prescriptions
Doctor Renewals Obtained
Cost-Busting Skill
2. Drive-Up Service If Needed
Prescription Mailing
Free Delivery (Sultan - Gold Bar)
We Stock Special Requests
3. Diabetic Wizardry Machines &
Tricks for Breathing, Immunizations
4. Fitting & Sale of Durable Medical Equipment (Braces, Crutches, Walkers, Wheel Chairs, Compression Stockings, etc.) Horn-Grabbin' Insurance Wrangler
5. Health Care Advice by Seasoned Pharmacist
Automatic Dispensing
Pill Reminder Boxes Filled
6. Educational Toys (Melissa & Doug)
7. Free Vitamins & Desired Vitamins
Best Kinds of Natural Medicines
Veterinary Drugs
(WOW! Savings)
Price Quotes Below Competitors
8. Free Identifying (Mushrooms/Plants)
Healthful Cookery on
Wild Walks Mountaineering Innovations
(Customizable Tents, Head Wear, Hardware, etc.)
Dedicated to Its "Sky" River Home
Awards From Local To National Level:
Top Pharmacy Community Service Award ("Bowl of Hygeia Award" From Each State)
Washington State Board of Pharmacy (Class A Pharmacy With Grade of 100)
Washington State Pharmacy Association ("Innovative Pharmacy Award")
University of Washington School of Pharmacy (Rank of "Clinical Assistant Professor")
Snohomish County Mycological Society
East Snohomish County Senior Center
Fern Bluff Grange, Sultan, WA
City of Sultan
Health Care Partner of:
Evergreen Health Medical Clinic, Sultan, WA (Next Door)
Sultan Dental Center
Cascade Health Naturopathic Clinic
Sky River Natural Health Center
Sultan Chiropractic
Sultan Veterinary Clinic
Sultan Chamber of Commerce
Evergreen Health Medical Clinics, Duvall and Monroe, WA
Providence Medical Center, Monroe, WA
Sea Mar Medical Clinic, Monroe, WA
Evergreen Health Hospital, Monroe, WA
Monroe to Index School Districts
Download Our FREE Mobile App

Refill On-The-Go
Refill your medications 24/7 without logging into your profile.

Pill And Refill Reminders
Set reminders to take your meds or when it's time to refill.

User Profiles
Safely store your information and manage your list of prescriptions.
Search "Sultan Pharmacy" In The Apple App And Google Play Store.
Subscribe to our newsletter